THO HEARTS, ONE THOUGHT
At Equusline we work on equine nutrition with the aim of achieving the most excellent nutrition for each horse based on its activity, physiological state and development.
¿WHY
EQUUSLINE

?

More than 50 years in the sector guarantee us

We are born from the union of our passion and active listening to keepers, riders and experts in the world of competition, who together with the experience of our team of veterinarians, specialists in equine nutrition, have managed to formulate the best feed for horses in the world.

At Equusline we know how to make good feed for horses, betting on innovation and collaborative work.
THE BEST FEED FOR HORSES, IS
VACUUM
Thanks to the vacuum packaging system, we can offer greater freshness to the feed, preserving all the nutritional properties and thus providing the best conditions for the horse.
Preserves aroma, flavor and nutritional quality.
Limits the development of microorganisms.
Greater freshness, reduces the risk of oxidation.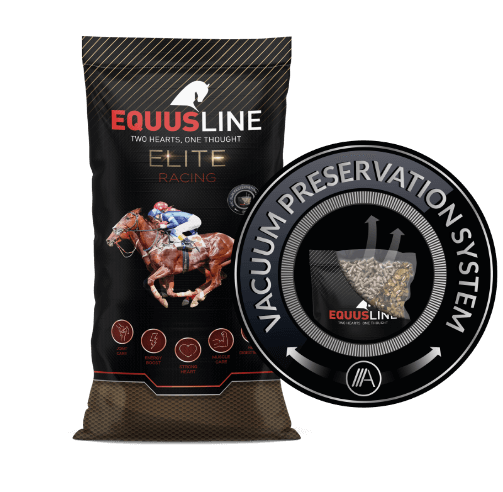 DO YOU KNOW WHAT
FEED

TO GIVE YOUR HORSE?

We know that each horse is unique and different, that it goes through different stages and each one will require covering totally different nutritional needs.

With the Equusline search engine, we advise you on the most suitable diet for your horse.
DO YOU WANT TO BE AN EXPERT IN EQUINE
NUTRITION

?

With the Equusline search engine, we advise you on the most suitable diet for your horse.
WHAT OUR AMBASSADORS
THINK
Laura Rocabert
Barcelona / Spain
Doma Clásica
The health and vitality of our horses is the most important thing and for many years in our equestrian center we have been committed to Equusline feeding. High quality feed and unbeatable treatment!

Alexandra Bihari
Hungría
Racing
I need a very nutritious and energetic diet for our racehorses and with the ELITE range of EquusLine we have improved our marks. We cannot be more satisfied!
Szczepan Mazur
Qatar
Horse: Nadir – Racing
Since I am using EquusLine, the condition and performance are impeccable. Energy has increased and we feel it enduring during the whole race. Stunning!
Román Gil Martínez
Zaragoza / Spain
Salto
Thanks to Equusline my horses are mentally and physically better than ever to face the new season.
I'm Pedro, how can I help you?
Hi, I'm Pedro, an expert in equine nutrition, I'm at your disposal to answer any questions you may have about horse nutrition.