KNOW
US
From the union of our love for equine nutrition and active listening to keepers, riders and experts in the world of competition, Equusline was born. Diets with high nutritional value adapted to the nutritional needs of each horse based on its activity, physiological state and development.
We simply want to offer the best feed for horses.
SUPERIOR QUALITY IN
RAW MATERIALS
We take into account the raw materials with which we make our select feed for horses. For this reason, we carry out rigorous controls when receiving the raw materials and during the production of the feed.
We are a cooperative group that works with local farmers, in an area with a very favorable climate to obtain top quality raw materials.
INNOVATION

AND CONTROL

At Equusline, we believe in the importance of using the latest technology to improve our manufacturing processes. In our horse feed factory we have our own laboratory that allows us to remain at the forefront of quality control of our feed.

Throughout the process, we carry out various analyzes of the raw materials and products, being avant-garde by incorporating a specific analysis for horse feed during the manufacturing processes.
VACUUM PACKAGED
FOOD

, MAXIMUM FRESHNESS

We use vacuum packaging techniques to safeguard and maintain the high quality of our horse feed. Aroma, flavor and nutritional quality remain intact for longer, prolonging the life of the product and improving its conservation.

Maximum freshness is guaranteed, as well as protection against humidity and the risk of oxidation. In addition, our vacuum preservation system also limits the development of microorganisms, thus maintaining the premium quality of our horse feed.
INDIVIDUALIZED

NUTRITION

At Equusline, we know that each horse has specific nutritional needs and that they vary throughout its life. For this reason, we develop feeding programs adapted to the breed, daily effort and age of each horse.

To do this, we have a veterinary team specialized in equine nutrition that prepares special formulas to provide the best equine nutrition, whether it is feed for high competition horses or maintenance feed for recreational horses.
LOVERS OF THE NATURAL,
WITHOUT MOLASSES
We declare ourselves lovers of nature and so are our horse feeds, elaborated in detail to take care of the horses' health.
That is why we use natural oils, an excellent source of prolonged release energy, very safe that helps prevent diseases such as Laminitis caused by glucose spikes.
That is why we have reduced the use of molasses as much as possible, using the minimum necessary to produce the cores and, of course, we do not cover our mixtures with molasses.
Thanks to the use of natural oils, our feed is highly digestible.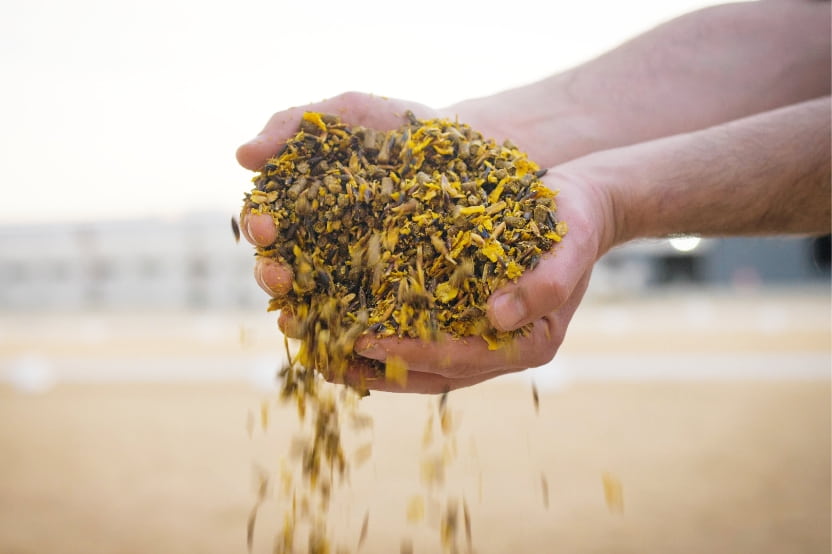 MORE THAN
50 YEARS

IN THE SECTOR GUARANTEE US

Equusline is the brand specialized in equine feed of the Agroveco Group, an agricultural cooperative that transforms the raw material of our partners into high quality feed.

COOPERATIVES

We like collaborative work and that is why we go hand in hand with our farmers, clients and riders.

DEMANDING

We are non-conformists and we seek excellence.

NEARBY

We have a team of experts who work to make your day-to-day life easier.

BRAVE

We are at the forefront and we are committed to innovation.